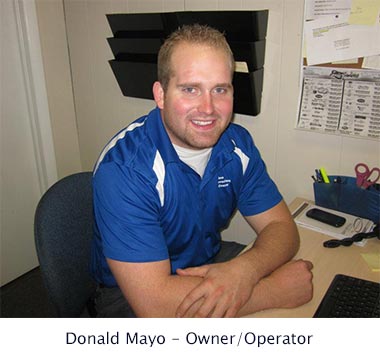 Collision Experts You Can Trust.
Since 2011 Collision Correction Center has been bringing smiles back to those who have wrecked their car or truck. It's a sick feeling when your precious new car or truck gets hit, often times for reasons outside of your control! We know the feeling, and the friendly folks at Collision Correction Center are here to help.
Under the leadership of Donald Mayo, and his father Jess Mayo, who originally started the business and is a life-long auto body repair expert, Collision Correction Center has been growing year after year, serving a number of collision repair customers in the Tulsa area. We have earned the respect of our clients through our professional-grade work, fast turnarounds, and integrity.
We know how to work with the insurance adjusters to make sure you get the maximum amount for your repairs, unlike many shops in town that are afraid to stand up to the insurance companies because they provide so many direct referrals. We don't get any referrals from insurance companies — but we do provide the best service and will get you the most for your repairs!
What separates Collision Correction Center from the rest is our relationships with the insurance companies - we don't have any! We aren't afraid to stand up to the insurance and demand that you get the top dollar for your collision repair. Other big names in collision repair do the opposite. They get so much business from the insurance referral system that they'll gladly cut corners and costs to make it a win-win for the repair shop and the insurance companies. The only one left out in the dark is the customer. At Collision Correction Center, we won't let this happen to you!
We don't cut corners. And we don't rip people off. It's that simple. And it's been the formula for our success. Submit a free online quote and see how Collision Correction Center can make it "like it never happened".